Publisher:
World Castle Publishing
A breeze ruffles your shirt as it sweeps by you, teasing you to follow. The air is sweet, and the sun is shining down casting a golden glow over everything it touches. You can feel the dirt and pebbles under your feet as you make your way to the fields of tall, brown grass that seem to go on endlessly for miles. You push through the grass, aimlessly walking to and fro. You aren't quite sure where you are, but you wouldn't mind staying here for a while. As you push aside a curtain of grass, that's when you see him… and you know, you've been here before.
Claudia Emerson has no idea what her strange dreams mean, but she does know that they're just dreams. Whatever happens in them isn't real, and she knows that nothing in them can hurt her. Then how come her last dream felt so real? How come she feels as if it actually happened, and it wasn't just some figment of her imagination?
Claudia's dream took her to Crossroads, a place between heaven and earth, and life and death. Claudia isn't quite sure how she was able to cross over, but she knows one thing for sure, she isn't supposed to be here. After multiple dreams, and meeting two mysterious boys who insist they aren't human, Claudia doesn't know how much of her dreams are fantasy, or reality.
It turns out that Claudia's dreams are much more real than she could have ever imagined. She meets Michael and his fellow alkins, who live in Halo City. Michael and his friends, aren't human, but they aren't angels either. They are alkins: half-human, half-angel beings that don't fit into either world. It's a mystery to the alkins how Claudia was able to cross over into Crossroads, but they know that the fallen will now be after her.
Michael is assigned as Claudia's guardian angel, and the two feel drawn towards each other instantly. Michaels is supposed to protect her though, not fall in love with her. Will Michael be able to resist Claudia, and stick to his duty? Or is their love meant to be? And why do the fallen want Claudia so badly? She's just human, isn't she? All is revealed in Mary Ting's debut of one girl's struggle to exist in two worlds and protect what she loves in, Crossroads!
Crossroads is a fast-paced story that constantly had me on my toes and marveling at the endless wonders that are the alkins. Mary Ting created an intricate world, laced with deceit, lies, and everlasting rules. Crossroads was given to me by The Experience Tours as part of the Crossroads Experience Blog Tour.* Thank you so much Mary Ting and The Experience Tours for providing me with a copy of Crossroads! I recommend this book for older teens and adults who will appreciate the romance and mythology that makes this book what it is.
I really enjoyed how Crossroads had a history behind it that really helped me follow along with the story. The alkins are half-human, half-angel offspring of humans and angels. They were never meant to exist, and therefore are confined to Halo City, where they learn to develop their angel qualities. Above the alkins are the Earth angels, who roam the earth and do their best to lead humans in the right direction and guide them to the right path. The Earth angels are guided by the Twelve, a group of twelve angels who are their superiors. Above the Twelve is the Royal Council. The Royal Council is made up of the first angels, and they are the governing body that makes the rules and doles out punishments in the world of the angels. There are also some angels who rebelled and thought that angels should live alongside the humans, and these are the fallen. Things such as this class system, and the history that many of the angels and alkins had with one another truly made the story of Crossroads feel all the more real and believable.
Claudia and Michael's romance takes up a large chunk of the book, and it was interesting to see how their love for one another conflicted with what was right and what needed to be done. Nothing could be done though, as both Michael and Claudia knew that they were meant for one another. Their love was strong and true, and it was fun to see how the alkin and the human taught one another about each of their worlds. Michael's friend and fellow alkin, Davin, would have to be my favorite out of all of them though, with his boyish charm and witty banter.
Mary Ting did a wonderful job at making the characters in Crossroads feel like teens, in the ways that they connected and interacted so easily with one another. Sometimes the language that they used was a bit awkward, and I feel like they were very formal with one another at times. What can you expect from an angel though?
I really wished I could have gotten to have seen more of Halo City, and gotten to read about the hands-on experiences Claudia had in the world of Crossroads. There was a great deal of history behind the alkins, but I didn't get to see very much of how they lived, or meet very many alkins outside of the ring of alkins that protected Claudia. I did get to read about how conflicted the alkins felt about being half-human and half-angel, and what it was like to be torn between two worlds. This helped me connect much better to the book, and I can't wait to learn more about the mysterious alkins in book two!
Crossroads is an action-packed read that will have you searching for clues as to why Claudia is so special. Nothing is as it seems in this world full of deception, and the battle between good and evil. Join Claudia and Michael, as they fight to protect one another, and their love in, Crossroads!
-This is T.B. with Another Book Back on the Shelf…
Until Next Time, Keep Reading!
*I received Crossroads
from The Experience Tours and the author, Mary Ting, in exchange for my honest review as part of The Crossroads Experience Blog Tour
. Thank you so much The Experience Tours and Mary!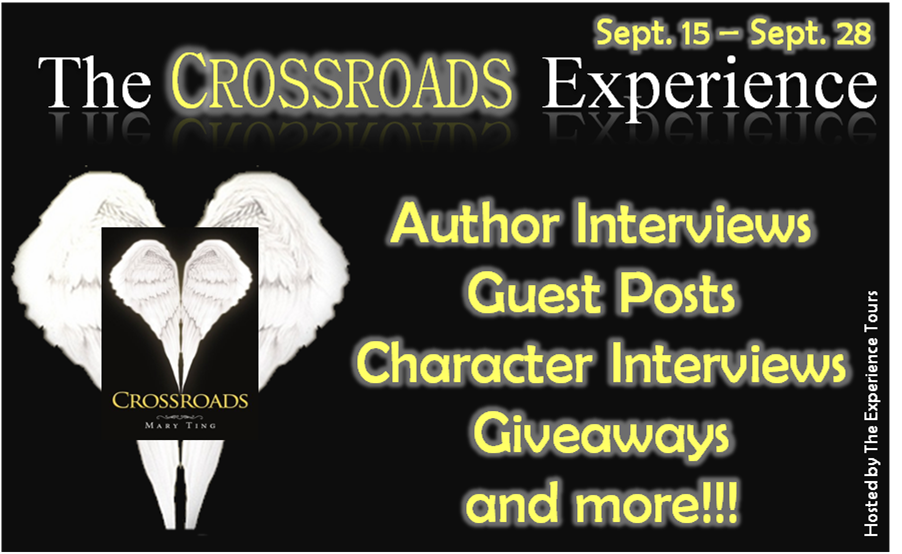 Stay tuned, because later today I'll have an interview with the author, Mary Ting, and TWO giveaways!
Don't forget to check out the other stops of The Crossroads Experience Blog Tour, where you can read reviews, interviews, and enter giveaways!