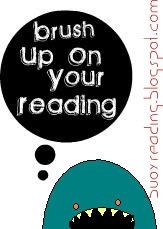 Ever wonder what my bookshelves look like? Well, you can go head on over to Nina's blog,
Brush Up On Your Reading
, and find out! Nina was kind enough to feature me on her blog. Thanks so much Nina (and ARGH)! I hope you can stop by and leave her a comment or follow her! This girl is so awesome, and she's got some AMAZING Paint skills! One example is of her button to the right. Isn't it awesome?!
I hope you get a chance to stop on by, and read more about my bookshelves! You can reach the post
here
.