Dystopia Challenge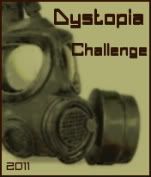 I have decided to participate in my very first challenge of the year! The Dystopia Challenge! This challenge is hosted by Bonnie at
Bookish Ardour
. The goal of this challenge is to read a certain number of dystopian books in the year. The challenge started on January 1, 2011 and ends on December 31, 2011. However, you may join in at any time, as long as it is before the end date. I have chosen the challenge level, Contagion, where I shall try and read 15 dystopian books this year. I might go over that, but so far that is my goal.
For those of you who might not be familiar with what dystopian is, here's a definition provided by
Dictionary.com
:
dys·to·pi·a (noun)- a society characterized by human misery, as squalor, oppression, disease, and overcrowding.
Dystopian novels usually take place in the future, and have to do with the people rebelling against an oppressive society. I have read many dystopian novels, and have reviewed several on my blog. Some examples of dystopian books that I have reviewed on my blog are Uglies by Scott Westerfeld, The Hunger Games by Suzanne Collins, The House of the Scorpion by Nancy Farmer, Unwind by Neal Shusterman, and The Maze Runner by James Dashner. If you have never read a dystopian novel, I suggest starting with one of these. They will get you hooked!
If you would like to participate in the Dystopia Challenge, just click here. I hope that this can be a fun challenge that you all enjoy!
-This is T.B. with Another Book Back on the Shelf...
Until Next Time, Keep Reading!